Here is my latest port for Caanoo …L'Abbaye des Morts an original GameMaker game by Locomalito recently reworked and released with GPLv3 licence by Nevat and available for Linux.
Thanks to fact that this remake is done using C and SDL libs an user of Pandora forum did the port and now i have adapted this code to Caanoo.
I have also done some work on a GP2X version but, for now don't want to release it, because is really too slow to be playable. This Caanoo version also is a bit slow but instead is playable.
See this video done by me to see for yourself : my video
So if you have a Caanoo look here to download
The controls are :
DPAD = Move directions left/right/down (to crouch) ..up is not implemented
X = jump and start the game
HELP1 = change gfx from 8 bit to 16 bit
Y = in the main menu show info of the game.
Here is a picture of the game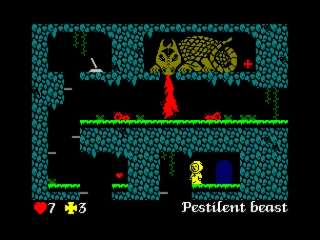 ITALIANO
Ecco a voi il mio port per Caanoo, si chiama, L'Abbaye des Morts e si tratta di un remake di un gioco
creato da Locomalito con l'ausilio del GameMaker e successivamente ripreso da Nevat portato in C/SDL e rilasciato con licenza GPLv3.
Il mio port nasce dall'uscita della versione Pandora a cura di un utente del forum (doragasu), e dove io ho aggiunto i controlli per giocare con Caanoo.
Ho anche cercato di portarlo sulla GP2X (testato sulla mia F200) ma al momento non lo pubblico perchè è ancora troppo lento per essere giocabile, al contrario della versione Caanoo, che è leggermente meno veloce della versione Pandora/PC ma cmq è decisamente giocabile.
Potete comunque constatare voi stessi grazie al video che ho realizzato dove si vede come gira su Caanoo e GP2X
link al video
Il download è disponibile qui link al download
Se non conoscete il gioco vi consiglio di provarlo perchè è veramente molto carino.