In the last days i have spent some time on porting an interesting application for Pandora, a program that could record in a video what is currently showing on the LCD of Pandora.
Such application is called Simple Screen Recorder and is realized by Maarten Baert.
Is a QT based program that is usign FFmpeg/Libav to encode the video that is captured from the screen.
This is the main features taken directly from author's page:
Graphical user interface (Qt-based).
Faster than VLC and ffmpeg/avconv.
Records the entire screen or part of it, or records OpenGL applications directly (similar to Fraps on Windows).
Synchronizes audio and video properly (a common issue with VLC and ffmpeg/avconv).
Reduces the video frame rate if your computer is too slow (rather than using up all your RAM like VLC does).
Fully multithreaded: small delays in any of the components will never block the other components, resulting is smoother video and better performance on computers with multiple processors.
Pause and resume recording at any time (either by clicking a button or by pressing a hotkey).
Shows statistics during recording (file size, bit rate, total recording time, actual frame rate, …).
Can show a preview during recording, so you don't waste time recording something only to figure out afterwards that some setting was wrong.
Uses libav/ffmpeg libraries for encoding, so it supports many different codecs and file formats (adding more is trivial).
Can also do live streaming (experimental).
Sensible default settings: no need to change anything if you don't want to.
Tooltips for almost everything: no need to read the documentation to find out what something does.
In order to be able to encode in many format i have added to the LibAvcodec many libs like x264, Theora, Vorbis, ILBC, lame, Twolame, opencore, visualon, wavpack, the only missing codec is libvpx that i was not able to compile.
Pandora version is missing an important feature, OpenGL recording, as it need a special injection library to work, that is not compiled because its using Elf Hacks thats is available for cpu i386 only.
An example of how well recording is done on pandora is available in this video (by Ingoreis a Pandora user):
Thread on Pandora forum for comments or suggestions: here
And now some pandora shots about the interface of the program :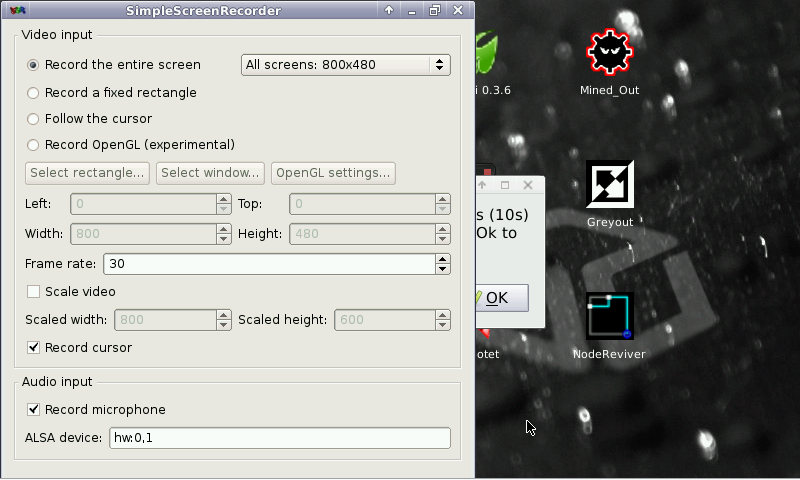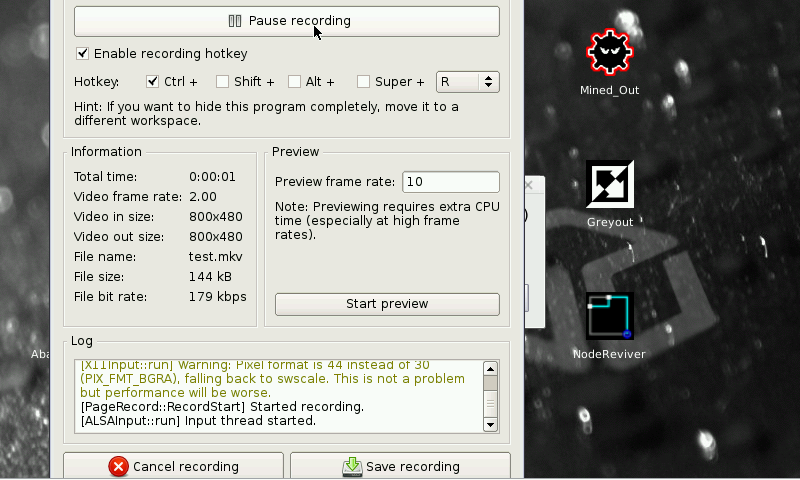 Download at Pandora Repo