New port of a Python+Pygame game.This time is Mortimer the Lepidopterist by Christopher Night.
This game was written for for the 11th Pyweek game programming challenge. It was the highest-scoring individual entry.
I have only changed the controls and the resolution of the game (now at 800*460).
The button used are:
DPAD =move
B or SPACE =use the Nab
SELECT or ESC = exit (Pause during game)
f =change fullscreen
F12 =take screenshot
A Pandora shot: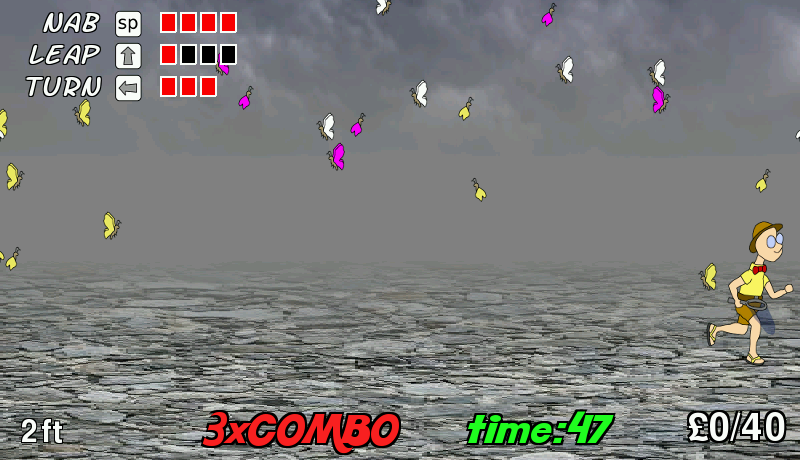 Download at http://repo.openpandora.org/?page=detail&app=lepidopterist.Farox&dp=true
ITALIANO :
Nuovo port di un gioco scritto in Python+Pygame. Questa volta si tratta di Mortimer the Lepidopterist di Christopher Night.
Questo gioco è stato scritto per il concorso 11th Pyweek game programming challenge ed ha ottenuto il maggior punteggio nella sezione giochi individuali.
Io nella mia versione ho solo modificato i controlli e la risoluzione (ora a 800*460) per meglio giocarlo su Pandora.
I bottoni da usare sono:
DPAD = Muove il personaggio
B o SPACE = Usa il retino
SELECT o ESC = Esce (se premuto durante la partita mette in Pausa)
f = Cambia modalità trà schermo intero o finestra
F12 = Cattura una schermata